SCS Thailand "Harmony" Launch Party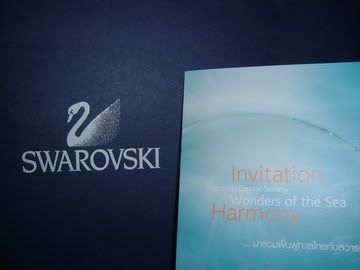 I have got an invitation from Swarovski Crystal Society (SCS) Thailand to a launch party of the 2005 Annual Edition "
Harmony
," the first crystal piece from the latest trilogy of 2005-2007 "Wonders of the Sea." This is also the first time ever that the Annual Edition, which is exclusively for a member of SCS, is available in both colored and clear crystal. It doesn't take much time for me as a SCS member to decide to buy both versions of this year's Annual Edition. I just can't help falling in love (at the first sight!) with the unique and creative design of "Harmony." The crystal looks alive, especially under the spotlight, where the reflection of the light from every facets of the crystal seems like a dazzling underwater world - depicted perfectly the name of the trilogy "Wonders of the Sea."
Another highlight of the activities is a chance to meet Martin Zendron, a Swarovski's designer who designed this wonderful "Harmony" crystal piece. The Annual Edition with the designer's signature is every collector's dream comes true. I wouldn't miss this chance to have Mr. Zendron signed not only both of my Annual Editions but also my other Swarovski's collection pieces designed by him.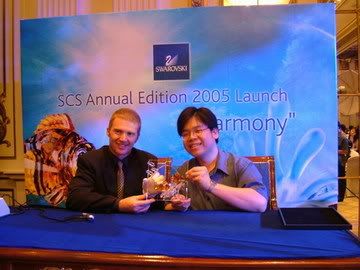 The party ended with a lucky draw for members of SCS. Even though I was not lucky enough to win the prize, I was happy with the new addition of my Swarovski's crystal collection. I am looking forward to next year's Annual Edition.
PS. There is a news that something is going on between Swarovski and Disney. "It all started with a mouse... and now there's something new!" said the last page of Swarovski Magazine (January/February 2005). There would be no wonder if Disney's Mickey Mouse and friends would appear in crystal form. The question is how beautiful they will look like. That is what to be seen.