Thailand's Rose Postage Stamp 2005
It has been about three or four years in a row since Thailand Post annually issues a rose postage stamp in commemoration with Valentine's Day. (Even though celebrating Valentine's Day is definitely not a Thai tradition, we seems to live in an age of globalization where pop culture rules among youngsters.) This year is no exception. The 2005 Thailand Post's rose stamp is designed to have an extra long shape to fully display a "Velvet Rose" with its stem. It's also the first ever Thai stamp to be printed on velvet's like paper and coated with rose's like fragrance in order to make It feels like touching (and smelling) a real rose.
As a philatelist, I wouldn't miss a chance to add this special stamp in my collection. Thailand Post also issues the First Day Cover along with the stamp.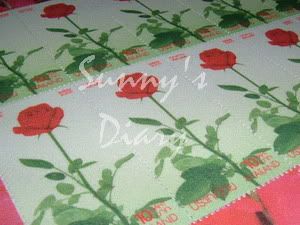 Specification
Release Date
: 10 February 2005
Number of Copies
: 3,000,000
Type
: Sheet of 10
Value (in THB)
: 5.00 ฿
Printing Style
: Lithography - Multi Color
Printer
: Cartor Security Printing, France
Design
: Parichart Tassanathep