Gable Postage Stamp
This year could be considered as a new era for the design of Thai postage stamps. I guess it might be because of the autonomy of Thailand Post from the state enterprise and becoming the company limited. In order to generate more revenue as there would be no more supporting fund from the government, Thailand post has to come up with a better service quality and more imaginative idea for the collector's stamps that "could be sold" well. First, there was the first ever circular shape stamp in Thailand (see the "
Panda Stamp
") and now there is the first ever triangular shape stamp to be released.
Gables are the triangular parts on either end of the roofs of ancient buildings including the Buddhist temple main building and the Royal palace. They could be presented in many styles, such as carving in wood or molding from cement, in accordance with the building structure. Gables are considered as a distinctive architectural feature and valuable for historical purpose. The idea of putting the pictures (and shape) of the gables on postage stamps is fantastic. It's certainly a one-of-a-kind collector's postage stamp.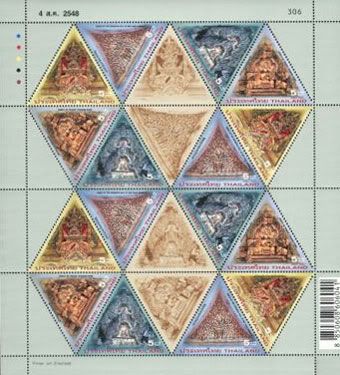 Specification
Release Date
: 4 August 2005
Number of Copies
: 1,500,000 pieces/design
Type
: Sheet of 16 (mixed)
Value (in THB)
: 5.00 ฿ (4 designs)


Design 1 : Gable of the Scripture Library at Wat Phra Sing Woramahawihan, Chiang Mai

Design 2 : Gable of the Uposatha Hall at Wat Khao Bandai It, Phetchaburi

Design 3 : Gable of the Stupa at Wat Phra Phai Luang, Sukhothai

Design 4 : Gable of Prasat Phanom Rung, Bururam

Printing Style
: Photogravure - Multi Color
Printer
: Joh. Enschedé Stamps Security Printers B.V., Haarlem, the Netherlands
Design
: Veena Chantanatat