Thai Charity for Tsunami Victims Commemorative Stamps
This set of stamps is released to commemorate one year of the Tsunami, the giant tidal wave, disaster in Thailand. There are 5,395 people known to have been killed in Thailand by the disaster, and nearly 3,000 people were still missing. More than 2,000 casualties were the tourists.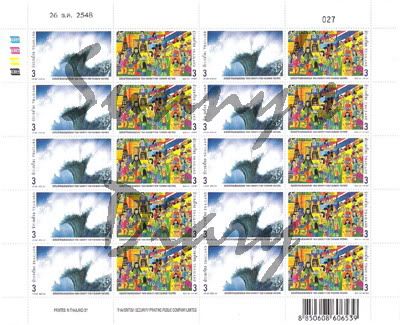 Specification
Release Date
: 26 December 2005
Number of Copies
: 1,500,000 pieces/design
Type
: Sheet of 20 (mixed)
Value (in THB)
: 3.00 ฿ (2 designs)


Design 1 : Illustrates Tsunami, the giant tidal wave. Designed by Ms. Mayuree Narknisorn.

Design 2 : Illustrates the assistance given to Tsunami's victims. This is a picture drawn by a girl named Chanipa Temprom.

Printing Style
: Lithography
Printer
: Thai British Security Printing Public Company Limited, Thailand