SCS Thailand "Eternity" Launch Party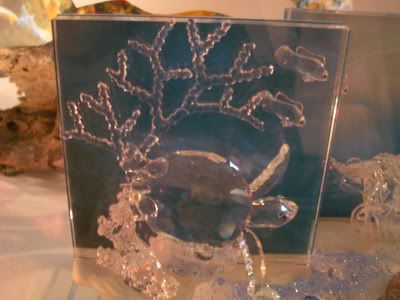 Time really flies. It has been exactly a year since I wrote about
"Harmony," Swarovski Crystal Society (SCS) Annual Edition 2005
crystal piece, the first of the trilogy "Wonders of the Sea" 2005-2007. Today, I was invited as a member of SCS to the launch party of "
Eternity
," SCS Annual Edition 2006 crystal piece, the second creation in the aforementioned trilogy. To be precise, the date and the venue of the party was exactly the same as last year: the first Saturday of February at the Royal Ballroom, the Oriental Bangkok. I marked the calendar and certainly didn't miss this glittering chance to meet the talented designer of "Eternity," Mr. Michael Stamey and had him sign my Swarovski silver crystal collection, including both "Eternity" pieces that are released in clear and colored cut crystal.
"Eternity" depicts a sea turtle, the symbol of longevity and thousand years of luck. This masterpiece does not only have a meaningful name but also have a wonderful design that it could be placed together with its predecessor in the trilogy "Harmony" in perfect harmony. Every year SCS never let us down by coming up with an unexpected creation. I wonder what the last and final crystal piece of the "Wonders of the Sea" trilogy will be looked like and how special it would be. That would certainly be answered next year.