5 Precious Warrior Amulets Postage Stamp
Last year, Thailand Post issued a collection of 5 Precious Amulets (Buddha Images Resemblances) postage stamps set and it was a phenomenon. Both philatelist and Thai amulet collectors as well as general public were going crazy to acquire this limited issue of postage stamp and make the set one of the most sought-after stamp of the year. This year, the amulets collection postage stamps make a come back with the new design for the second edition, which is called "Phra Yot Khunphon" or literally translated as "the Great Warrior Amulets." The collection comes in different 5 designs in 5 different postage stamps. There are also a Souvenir Sheet and First Day Cover to commemorate the issue of the stamps.
Unlike last year, this year I made a reservation for this set of postage stamps as well as its commemorative set at the local post office in advance. So I don't have to sweat myself queuing in front of the post office on its day of issue. The stamps are delivered directly right to my door step. What a bless!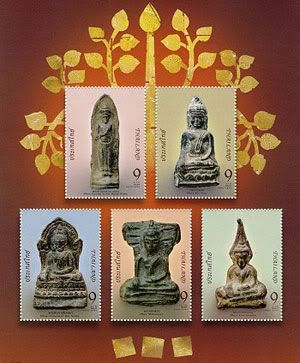 Specification
Release Date
: 19 June 2005
Number of Copies
: 2,000,000 pieces/design
Type
: Sheet of 20 (mixed)
Value (in THB)
: 9.00 ฿ (5 designs)
Printing Style
: Lithography - Multi Color
Printer
: Thai British Security Printing, Thailand
Design
: Udom Niyomtham